There are a few upcoming Excel-related events that you might be interested in. These are online sessions, and all of them are free.
1-hour webinar on building Excel dashboards
video course covering Excel 2013 fundamentals
online conference, with a wide variety of Microsoft-related topics, including Excel
You can read the details below, and watch for the availability dates and deadlines.
Excel Dashboard Webinar
This week, Mynda Treacy, from My Online Training Hub, is leading a free one-hour Excel Dashboard Webinar. There are a few days and times available, so pick the session that best fits your schedule. The webinar will be fast-paced, and packed with dashboard tips and techniques that you can apply in your own workbooks.
Also, registration is open for Mynda's Excel Dashboard Course. and today is the deadline to get a discount -- you can save 20% if you sign up by today (April 23rd).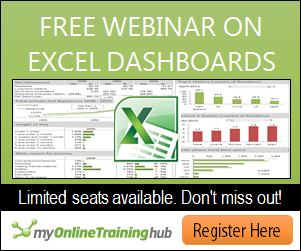 Excel 2013 Fundamentals Course
On the Pluralsight website, they've started a new program, Free Pass, giving a week of free access to one online course each week.
This week, the Free Pass course is Excel 2013 Fundamentals, taught by Heather Ackmann. Here is the course description:
"This course covers everything you need to know to get started in Excel 2013. Starting with an overview of how to navigate in Excel using both the mouse and keyboard shortcuts, Heather Ackmann dives into popular topics including writing formulas and expressions, popular functions, sorting and filtering, conditional formatting, PivotTables and PivotCharts, and more."
The course length is about 5.5 hours, so you should be able to complete it within the free time period. You can see the course outline and details here: Excel 2013 Fundamentals
To sign up, go to the Free Pass page, and fill in your email address.
This Free Pass started yesterday, Wednesday, April 22nd, and will only be free until 4/28/15 at 11:59 pm GMT.
2015 Microsoft MVP Virtual Conference
The first ever Microsoft Americas MVP Virtual Conference will be held online, May 14-15, 2015, with sessions from 8 AM to 6 PM (Pacific Time), both days.
The first day, there will be a Keynote presentation, delivered by Steven Guggenheimer, Corporate Vice President of the Developer eXperience (DX) group at Microsoft Corp.
Following that, there will be 45 presentations, split into 5 tracks.
The second day, there will be 50presentations, split into 5 tracks
If you don't have time to attend the full online conference, you can see the full agenda, to find sessions you're most interested in.
For example, on May 15th, at 10 AM (Pacific), there is a session on Pivot Table Data Crunching.
And after the problem with ActiveX controls, maybe we should all attend the session, "Understanding Windows updating", on May 14th, at 5 PM (Pacific)
Then, register for the event, and you'll get a confirmation email, with links and the instructions for attending the sessions.
____________________